Leigh from The Applicious Teacher recently posted about Interactive Anchor Charts
. Her post was not only informative, but inspiring.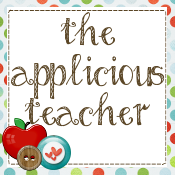 I work very hard to make sure that my students know how to use and where their resources are located. We constantly use anchor charts as a resource during writing, word work, and math. Even though students provide ideas for the anchor charts, I am the one doing the writing. Leigh's post got me thinking...why not give my kiddos ownership?
After some chatting with my student teacher, we decided to introduce an interactive anchor chart during the launch of our How To unit. Students were introduced to Temporal Words and then used sticky notes to add more words to the categories.
Students have continued to add to this anchor chart and are referring to it during their retells and writing. I am so proud of their work and can't wait to continue using this exceptional tool!
Do you use interactive anchor charts with your students?